Triptych Sigil Signet
Open media in modal
Open media in modal
Open media in modal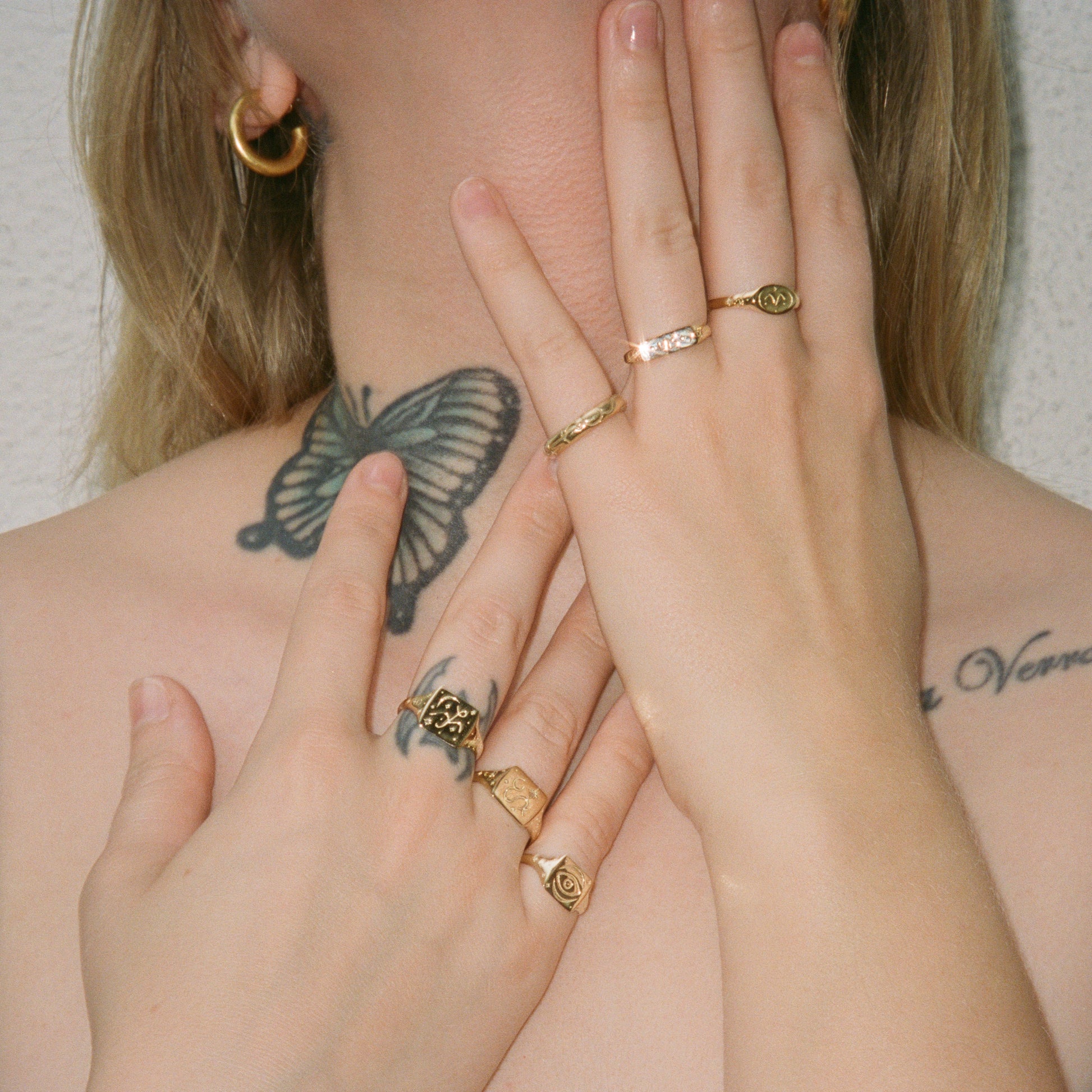 Open media in modal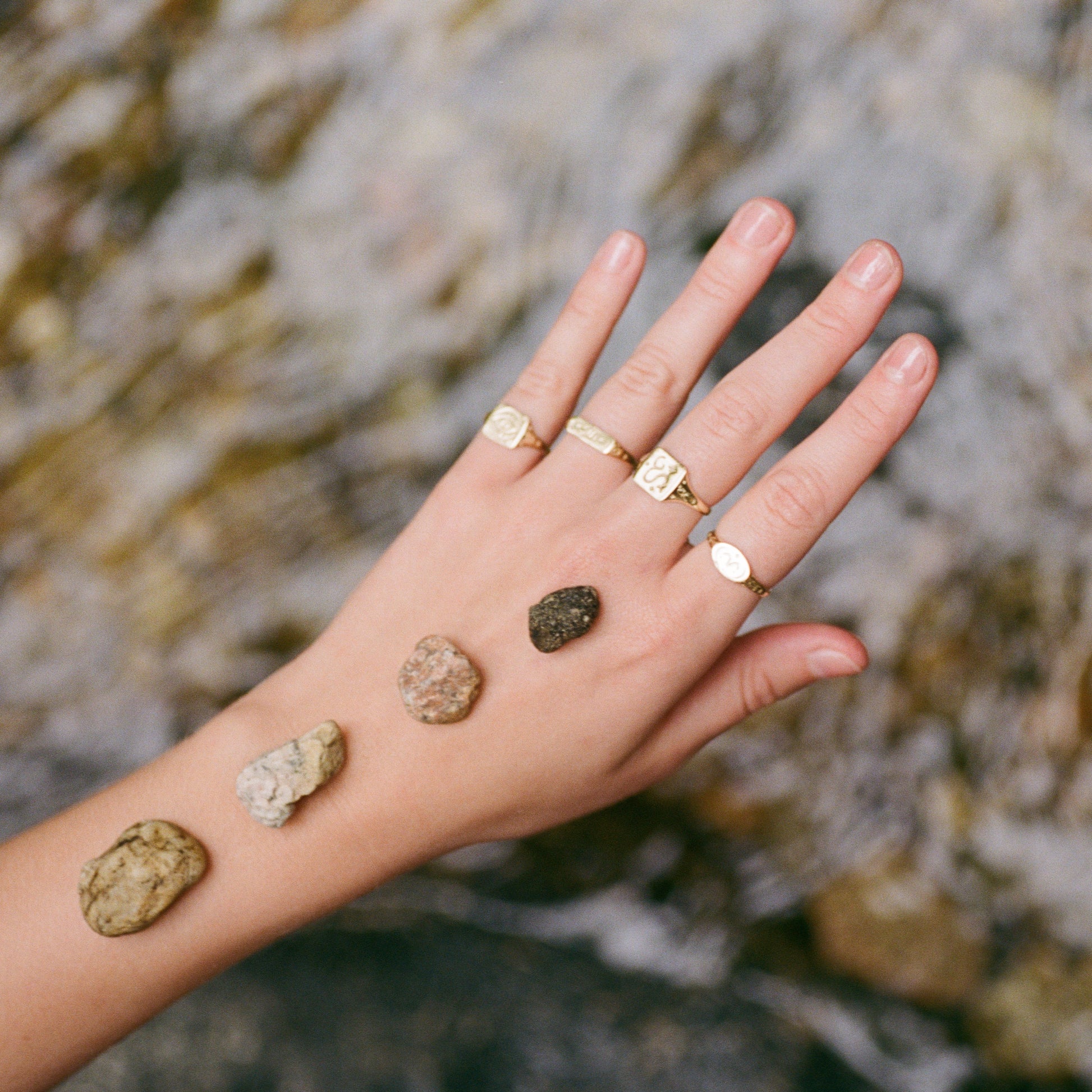 Open media in modal
Featuring a cosmic skyscape of stars, crescent moons, and sigils on the face and sides of the signet, the Triptych Sigil Signet allows you to embody three sigils at once. Choose your three sigils from the library to create your own unique combination and intention.
Be sure to write your chosen sigils in your note at checkout. A 3D render of your design will be sent to you for approval before it is cast into solid 14k gold.

Choose Your Sigils:

⊹ Choose three sigils from our Sigil Library to create your unique combination.

⊹ Be sure to write your selection in the note at the checkout, along with any additional design thoughts.

⊹ We will consider your chosen sigils, where they would work best on your desired ring shape, and the placement of stars and crescent moons if you select that option. You will receive via email a 3D render of your unique design for your approval before we cast it into 14k gold.
Specifications:

⊹ Don't see your size? Choose a custom sizing option here.

⊹ Material: Solid 14k Yellow Gold

⊹ Weight: Approx. 5g depending on shape and size of chosen ring

⊹ Band Height: Approx. 1mm
Materials:

⊹ In many traditions, gold is considered the most sacred of all metals and is the metal associated with the Sun.

⊹ By working with strictly solid 14k gold, we create quality pieces that last many lifetimes. We hope each Sigil Signet has a wide-reaching effect across time and family lineages. Choose to make your ring in Fairmined gold here.

⊹ Bright and durable as the sun, 14k yellow gold is our studio metal of choice. We can also create pieces for you in platinum, or 18k, 20k, 22k, or 24k rose or white gold. Choose a different gold here.
Pricing:

⊹ The price of each piece is determined by the weight in gold and the price of labor.

⊹ Each ring includes design labor, casting labor, trimming labor, and polishing labor.

⊹ A higher price is charged for designs that will take more time, like the Triptych Sigil Signet.
Shipping:

⊹ As each piece is made custom for you, please allow up to a week for your unique triptych design to be created, then an additional two to three weeks for your signet ring to be made especially for you. You will be notified when your ring ships.

⊹ Choose your shipping speed and signature requirement at checkout.

⊹ Shipping insurance is included. If you have any issues with shipping you will need to contact the shipping provider directly.

⊹ Please read Our Process & Terms of Service for more information.
Care:

⊹ Solid gold will never stain your skin and is unlikely to tarnish, though it is a soft metal and will scratch with wear. To us, scratches show the history of a well-loved piece, but if you want to preserve your piece be mindful of when and where you wear it.

⊹ Cleanse with soap and water or, for a deeper clean, with an at-home ultrasonic jewelry cleaner.

⊹ If you want your ring polished to look again like new, you can purchase our polishing service here.